Ethereum's large outflows from exchanges is a sign traders aren't looking to sell any time soon. Recently the largest amount this year was staked.
Blockchain analytics firm IntoTheBlock says the recent mass migration of Ethereum (ETH) away from crypto exchanges suggests a rally for the leading smart contract platform might be on the horizon.
In a new tweet, analysts at IntoTheBlock say that a massive withdrawal of over 180,000 Ethereum tokens worth $531 million from crypto exchanges in 24 hours is ETH's largest outflow so far this year.
"Over 180,000 ETH was withdrawn from centralized exchanges within a single day.
[The] last time such a magnitude of ETH left exchanges was in October 2021, preceding a 15% price increase within ten days.
190,000 ETH was also deposited into Lido's stETH liquid staking."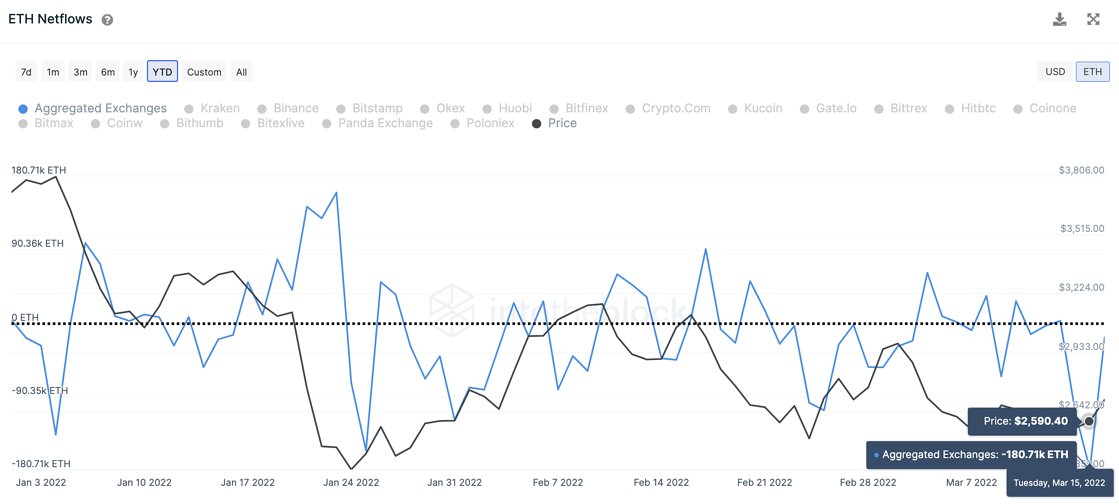 The data-crunching experts next delve into the amount of Ethereum being staked into the ETH 2.0 deposit contract. According to the analysts, the number of Ethereum staked in the deposit contract has risen from under four million in April 2021 to 10.4 million ETH this month.
"10 Million ETH – 8-figures of Ether – are now deposited into the proof-of-stake contract.
This represents approximately 8.3% of all ETH in circulation.
The amount of ETH staked has grown by 20% in the last 90 days and 10% in the past 30 days alone."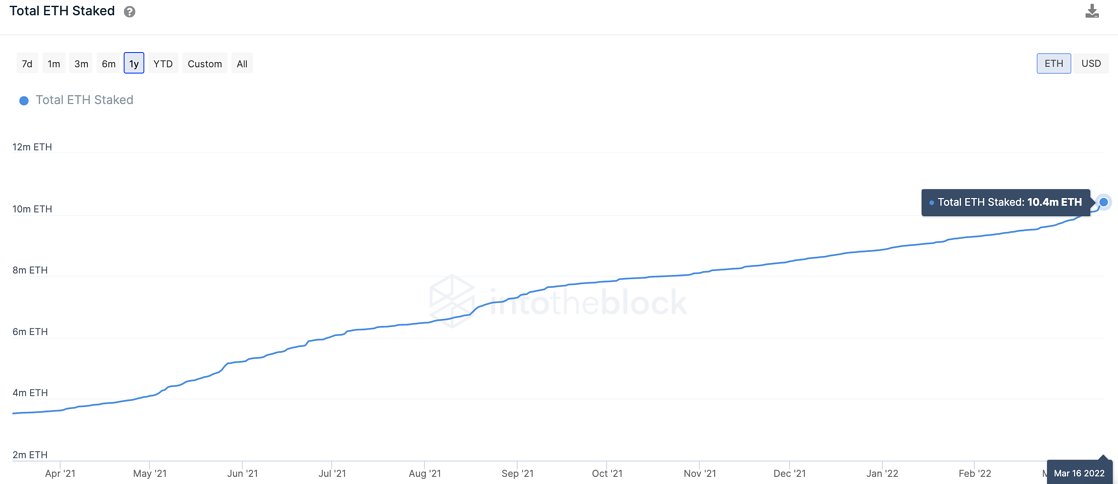 According to a new IntoTheBlock blog post, the Lido liquidity protocol is dominating the realm of staked ETH.
"Lido continues being the larger party with more than $6.87 billion in ETH staked with them. This stake is divided among more than 20 different professional validators.
A key for its growth can be explained by the increasing amount of integrations that they have conducted with more than 25 DeFi protocols.
It is ubiquitous to find their liquid token stETH [Lido Staked Ether] in most of the top DeFi protocol on Ethereum."
Ethereum is up 6.36% in the last 24 hours at time of writing and trading for $2,959.
via this site dailyhodl.com
Featured Image: Shutterstock/iobard