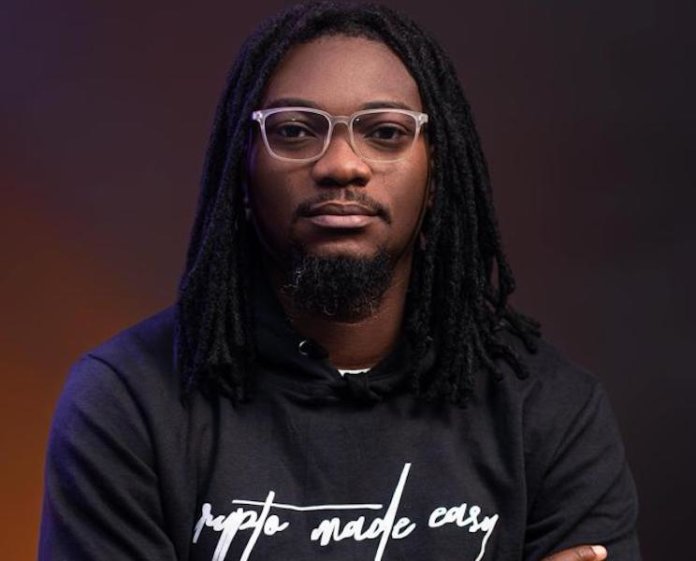 A generated by theme
end A
The Chief Marketing officer of Patricia Technologies, Mr. Rotimi Ogunwede speaks about the cryptocurrency market, the effect of the ban in Nigeria as well as the success of e-Naira. Nosa Alekhuogie presents the excerpts:
Tell us a bit about Patricia Technologies.
For Patricia, we've set out to make crypto easy for humanity, and understanding the actual needs of our customers and meeting them where essential is the first step towards that. We also look at the market, make predictions and take the best bets to find a way to reduce the gap and be the bridge between traditional finance and Blockchain technology, which is how we introduced the first crypto debit card in Africa.
The services that shaped us are the use cases we were able to innovate around cryptocurrencies. Trying to bring real-life use cases, where people can use their crypto to buy airtime, buy data, pay for utility bills, as well as the introduction of Africa's first-ever crypto debit card. These were the innovations that changed the game, as well as the narrative of what Patricia represents.
A generated by theme
end A
What effect did the ban on Cryptocurrency transactions in Nigeria have on your business?
The ban created initial fear and confusion amongst the populace due to the suddenness of the decision. However, the market has adjusted well, and from widespread reports, many people who were not paying attention are paying more attention to the market now than ever. The first thing we thought of when it happened was the safety of customers' funds. We anticipated a lot of panics. Our first step was to deploy educational materials to inform our customers what the policy meant and how it affected them. There was uncertainty, but I would say the market has adjusted to the current realities. Stakeholders' conversations are ongoing within and outside the corridors of the authorities, and we are confident of a seamless resolution at the end of it all.
About 60% of Nigerians still don't understand cryptocurrency or how it works, with the infiltration of the process by scammers in top gear, what should be done to build their trust and get more people on the platform?
The lack of crypto-education amongst the mass majority is one major limiting factor worthy of note. However, we understand that crypto is here to stay and what crypto platforms can do to overcome these issues as well as ushering Africa into a new crypto era would be; Acknowledging that Africa is still at its infancy stage in terms of development and trying not to bore users with a lot of the crypto lingo regarding crypto education. That way, we can go local and use our technology and interactions to drive the message home. Another thing will be building simple, convenient, efficient products and services on platforms that users can easily navigate.
Also, driving mass Crypto adoption by promoting "usage" and this can be done with unique products such as Refill which is a solution that allows people buy airtime and pay for bills globally. It is the first way Patricia ensures that we move from a speculative store of value. Most people see crypto as a necessity for everyday transactions.
What segment of the population is crypto targeted at, and are there particular people who should trade on the crypto platform?
At Patricia, we see all of the possibilities, and it's something we are preparing for actively. In contributing our quota, we asked ourselves the following questions; How do we get people to adopt and listen, prepare for the smart contracts, and get more people into the Non-Fungible Token ( NFTs) space? The answer to questions is that our solution and strategy are evident in our payo, "Cypto Made Easy".
I'd given you an example of when a 53-year-old woman who uses Patricia walked into our then Lagos office to fix an issue with her account at the customer service desk. I was just stepping into the office that day and saw her at the experience center. I introduced myself and asked if she uses Patricia; she said yes to my surprise. She buys Bitcoin from Patricia and sends it to her two sons studying in the United States of America, who trade it for fiat and use the money for their upkeep.
It made me marvel at how versatile crypto has become and how it helps solve cross-border payments issues. Crypto is for anyone and everyone; it has come to stay, and the world will get to understand this in years to come.
The cryptocurrency market is a risk-driven market because of the volatility in that market. What are the indications that despite the volatility, investors can still make profit?
We see that the crypto market exhibits a form of volatility; however, this is peculiar with most high-risk investments. It is pertinent to understand that crypto isn't a get-rich-quick scheme; you must do your research, understand the market by studying trends, and only invest what you're willing to lose.
Due to this, we understand that crypto education is vital and cannot be overemphasized, and that is one gap Patricia seeks to bridge today.
There are a multiplicity of gift cards and cryptocurrency platforms. How do you distinguish between the genuine and fake ones?
Once you step into the crypto space, you have to do a lot of research, as it would do you a lot of good. You would understand what platforms to use, tokens with significant use cases and solving real-life problems to invest in, trends to study, and areas to be considered risky. We have many fake platforms, which have been set up to take advantage of people, but there are also genuine platforms. The bulk of the work is you doing your research and staying well informed always.
Beyond a method of payment, what are the other functions of cryptocurrency?
There are a lot of things you can do with crypto; The first would be facilitating remittances and Cross border payments as this always leaves room for transparency. With blockchain, you can always track and see what transactions are happening on the blockchain network. There has been a lot of chatter about open banking; cryptocurrency gives an excellent answer to that. The Decentralization, transparency, and convenience of Blockchain have been some of the hallmarks that have driven crypto adoption. What crypto has done in cross-border remittances has firmly put control in the direct financier's hands. The fact that all transactions are on the blockchain network already aids transparency in the dealing process. It is also globally used to buy airtime and pay for utility bills.
Crypto is also used as a form of alternative investment, just as you can buy and trade stock in public companies, you can buy cryptocurrency with the hope that it will increase in value over time, allowing you to cash out for a profit at a later date.
What advice will you give investors looking to come into this space?
Brace up and get on the digital train of wealth creation because it's going to be a long, rewarding ride.
Crypto is here to stay; you don't want to be left behind. First, we saw a shift in the type of coins customers wish to have. People are moving from Bitcoin to Ethereum to stable coins such as USDT and other forms of crypto, mainly as a form of investment. These coins gain significantly and have more use cases and features that Bitcoin traditionally does not have today.
This has also increased the adoption level; people are getting educated about Blockchain technology, how it affects their daily lives and how they can be a part of it. You see a coin like CARDANO (ADA) getting more adoption because of its intrinsic value and opportunities, which most people were blind to before.
In the same light, we've seen artists, celebrities, and big tech jumping into NFTs, people broadening their understanding of Decentralized Finance (DEFi), which is opening up the crypto space to everything more versatile than just the traditional buying and selling we've been used to. This means that the more we have conversations around cryptocurrencies and they get adopted, the more the customers' need to hold, buy, exchange, and delve deeper into the Blockchain network, and that's what we're here for. What better time for an investor to be a part of the movement if not now?
What's your projection of the cryptocurrency space in the next five years?
With 2017 being the breakout year for crypto, and Bitcoin surpassing $10,000 and more than $3.8billion raised in Initial Coin Offering (ICOs), one thing is certain, crypto is out of Pandora's box, and there's no putting it back.
In recent times we've seen industry trends such as – NFTS, ETFs, unique DEFI-projects, Central Bank Digital Currency (CBDCs), the growth of stable coins, Institutional adaptation of the cryptocurrency ecosystem, Expansion of market for Decentralized Applications (Dapps), and lots more to come. In the next couple of years, we would be seeing fully decentralized exchanges, digital commodity markets for everything (which has started with NFTs and is rapidly expanding), as well as institutional managers fully participating in all of these since they're no longer sitting on the sidelines or waiting for custodianship technology to mature.
I'm excited about them all because it would foster adoption and pave a way to show that Crypto is here to stay. It is only a matter of time before the entire world comes onboard.
What are your thoughts about the e-Naira digital currency that was launched by the Central Bank of Nigeria recently?
I think it is a good one generally. A handshake from regulatory bodies would be necessary at some point, and I think the introduction of CBDCs is the first step in the right direction of adopting digital currencies.
A generated by theme
end A